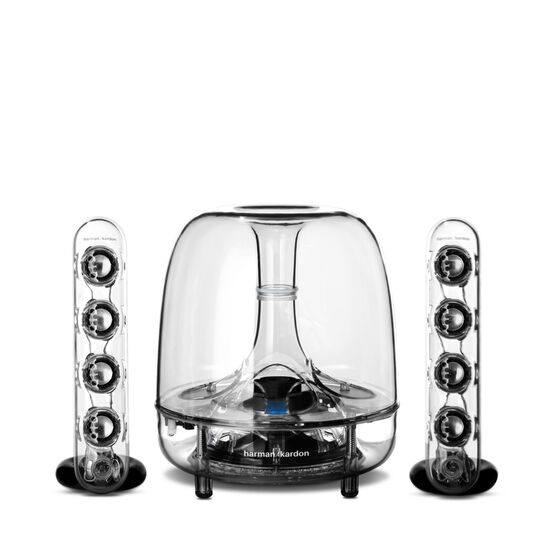 SoundSticks Wireless
Details
https://www.harmankardon.com.au/SOUNDSTICKS+WIRELESS.html?dwvar_SOUNDSTICKS%20WIRELESS_color=Clear-APAC-Current
---
Three-piece wireless speaker system with Bluetooth connectivity
40 watts of amplification
Technically, the SoundSticks Wireless system is "multimedia,"but once you hear it perform, you'll realize that it could easily become yourprimary audio system. With 40 watts of amplification producing rich, realisticsound, the SoundSticks Wireless offers strong bass output that will make allyour music sound great – no matter what source is generating the music. Andwith the SoundSticks Wireless' down-firing subwoofer amplifiers matched to itssatellite speakers, you can rest assured that each speaker will get exactlywhat it needs to deliver consistent, optimal performance.
Bluetooth audio streaming
Let's face it, most of our audio devices are Bluetooth-capable.And we're not using them just for music; we're watching movies, playing gamesand accessing social content. Using advanced HARMAN TrueStream™ wirelesstechnology, you can connect your Bluetooth-enabled devices such as your tablet,phone, MP3 player and laptop to get the best possible wireless sound qualityfrom all of your audio, not just your music. And it automatically switches tothe Bluetooth system when your audio device is connected and playing. Sowhether you're working away at the desk or streaming music while lounging onyour comfy sofa across the room, you'll still experience the same high-qualityHarman Kardon sound you've come to love.
HARMAN TrueStream
HARMAN TrueStream is our guarantee that you will experience thebest possible listening experience when streaming wirelessly via Bluetoothtechnology. Because there are many connectivity options when it comes toBluetooth technology, our engineers always use the most current and mostadvanced. This method ensures the highest quality sound no matter theapplication or source device.
Awe-inspiring industrial design
Few multimedia sound systems can boast that their predecessor ispart of the permanent collection at New York City's Museum of Modern Art(MoMA), but that's exactly the claim the SoundSticks Wireless speaker systemcan make. Taking its older sibling's celebrated design even further, the newSoundSticks Wireless's look is cutting edge, with a modern industrial-designaesthetic, elegant black accents and a luminescent white LED glow. And thoughthe SoundSticks Wireless system may look like a visitor from the future withits transparent speaker covers, its exceptional performance makes it a morethan worthy successor to the original, famous SoundSticks system.
1/8" (3.5mm) stereo audio connection
Though you keep plenty of songs on your Bluetooth devices, thatdoesn't mean that all of your music is there. So we've ensured the SoundSticksWireless's compatibility with other sound sources. Thanks to its 1/8-inch(3.5-millimeter) stereo audio connection, you can use the SoundSticks Wirelessspeakers with nearly any device that has stereo line-level outputs. By offeringyou this user-friendly option, the SoundSticks Wireless is more than just agorgeous addition to your desktop, bookshelf or entertainment center. It alsokeeps your life simple with a maximum of connection options – and a bare minimumof wiring.
Touch controls for volume and mute
The SoundSticks Wireless system makes it easy for you tointeract with its subwoofer and satellite-speaker "sticks," offering sensitivetouch controls for raising, lowering or muting the system volume. By respondingto the gentle touch of your fingertip, this intuitive design feature makes yourSoundSticks Wireless system easy to operate and keeps this work of audio art inthe best possible condition.
6" (160mm) down-firing subwoofer with volume control
In addition to 40 watts of amplification, the SoundSticksWireless system also features a 6-inch (160-millimeter) down-firing subwooferwith volume control. By aiming sound down instead of sideways, your subwoofermakes your system less susceptible to adverse room variables – and gives youconsistent performance. The subwoofer also has a flared port that reduces portnoise during high-volume audio passages. This feature helps you tailor soundlevels based on your room's specifications as well as your own listeningpreferences.
Eight full-range transducers
Harman Kardon products have a rich history of beautifullyengineered sound. The SoundSticks Wireless system is no different, coming witheight full-range transducers (four in each satellite speaker) and deftlyfilling your room with great sound while increasing your power handling andaudio output. With low distortion and high sound quality, the SoundSticksWireless speakers ensure that you'll hear music or video exactly the way itscreators intended.
Easy-to-adjust satellite speakers
Elegant and easy to use, the SoundSticks Wireless satellitespeakers are designed to fit exactly where you want them. Aim these slim,small-footprint "sticks" at the desk where you work or at the comfy couchacross the room where you take a break; either way, the SoundSticks Wireless's"sticks" will give you great sound.
Harman Kardon sound: A legacy of achievement
The SoundSticks Wireless system strikes the perfect balancebetween beautiful sound and elegant design. What's more, it allows you toaccess all the audio on your favorite devices conveniently and without ahassle, thanks to integrated Bluetooth technology. The system lives up to apowerhouse tradition; from the world's first stereo receiver (the Festival®TA230) to the incarnation of the SoundSticks system that has become part of thepermanent collection at New York City's Museum of Modern Art, Harman Kardonengineers have consistently advanced the science of sound, developingmagnificent audio products that are dedicated to quality and durability and,most importantly, generating rave reviews from audiophiles.
Dazzlingly realistic sound meets stunning visual design
Beautiful sound requires no wires.
For nearly 60 years, Harman Kardon® engineers have designed some of the world's most sought-after speaker and amplification systems for home and car audio – including the SoundSticks® 2.1-channel desktop speakers, the only audio system to become a permanent fixture at the New York City Museum of Modern Art (MoMA). In a continuing effort to make their best even better, Harman Kardon engineers have now upgraded that same work of art into a wireless incarnation: the SoundSticks Wireless. Stepping up its ability to deliver exceptional audio in a beautiful package, the SoundSticks Wireless features a six-inch (160-millimeter) subwoofer, eight full-range drivers, 40 watts of amplification, touch controls for volume and muting, and a 1/8-inch (3.5-millimeter) audio connection for compatibility to various devices – and it also has the added benefit of integrated Bluetooth® technology. So whether you're working away at your desk or comfortably lounging on the sofa across the room, you can still experience the same breathtaking sound from music, movies, games and podcasts from any Bluetooth-enabled device – be it your phone, tablet, MP3 player or computer. The SoundSticks Wireless is truly performance at its finest.